Queensland Beef Corridors
A
road network that 
doesn't
 keep pace with the demands of 
the
 industry
 it serves.
A lack of a solutions-based investment and piecemeal funding leads to a slow loss of competitiveness and has negative impacts on downstream supply chain opportunities. 
Now is the time to connect the dots.
Recognise the issues and solutions.

Create a collectively agreed and formal 6-year beef road funding program that reflects a share in investment equivalent to the industry output.

Collect data for future strategies.

 

Completely seal beef roads

 and achieve consisten

cy across heavy vehicle corridors.

 
 Learn more about the road condition and funding requirements.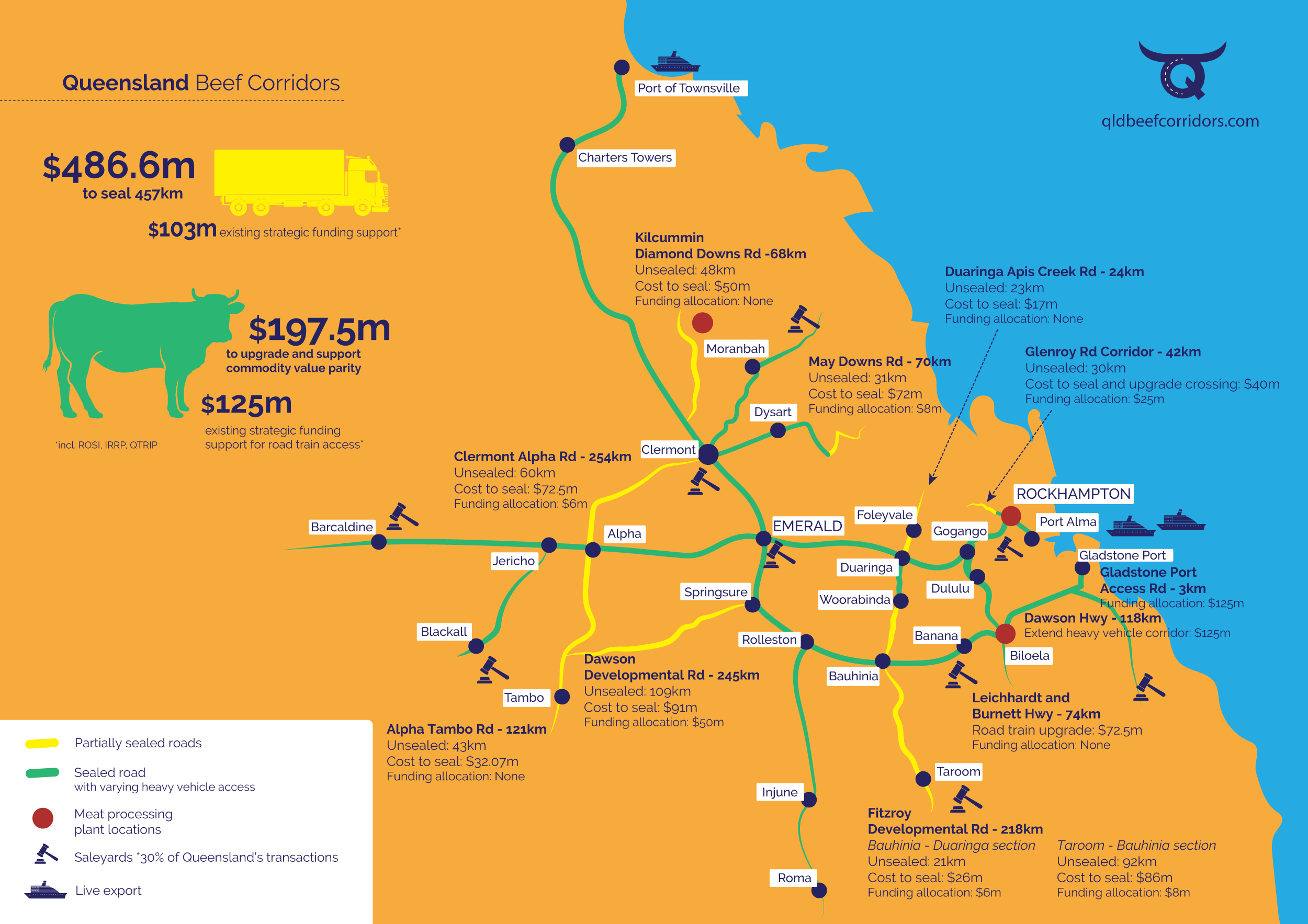 Stretching across an area of nearly 218,000 square kilometres, the road corridors form a strategic web of agricultural supply chains from east to west.
They carry a world-class beef product and contribute $1.7 billion to the Australian economy.
Upgrading these roads is paramount for the future…
Economy
Eliminate key capacity constraints on Central Queensland's biggest agricultural commodity.  
Confidence for value-add businesses. 
Employment opportunities from upscaled operations and capital investment.  
People 
Improved road safety for all road users. 
Revitalised communities with a sense of regional identity and recognised beef industry. 
A sense of recognition that regional communities are indispensable contributors to the Australian society.
Producers and industry operators
Enhanced productivity through reducing or eliminating impediments on delivery. 
Certainty for producers that upscaling operations is viable.  
Confidence within both the production and processing sectors to maintain supply chain consistency all year round. 
Reliability for processors for production and quality. 
Consumers
Improved animal welfare with reduced travel times, larger trucking configurations, eliminating dust and heat stress.  
Reliability in production and quality.  
Heavy vehicle industry
Reduced maintenance costs on heavy vehicle fleet businesses. 
Potential for higher profits margins and renewed capital investment and employment. 
Road safety improvements for drivers and road users, particularly around fatigue management. 

The beef industry of today, and the one that our children will inherit, is no longer about producing a low value commodity. It's time that the Dawson Development Road is upgraded to a standard that the growing, flourishing industry requires.
– Bernadette Paine, Grazier, Springsure

Proper road infrastructure would expand our markets, increase accessibility to important infrastructure for both our families and business and reduce the disruptive impacts caused by standard weather events.  
– David Kemp, Feedlot Operator, Lotus Creek

To me, this is about opening up the west. If we can get better roads, we can put more families in these remote towns that are dying. It's a beautiful place, that produces all the beef. How can we help it thrive?
– Fred Appleton, Organic Grazier, Alpha

On a gravel road the biggest expense on trucks is the maintenance on the trailers, running gear, suspension, brakes and bushes, secondly fuel consumption and then wear and tear on tyres. In my opinion, the people who make the decisions aren't where the action is going on but in metropolitan areas, they need to be more hands-on, get out and work out what's going on. It's a really good idea and a good opportunity to address some of these longstanding issues, as long as we get a result. 
– Ken Dillon, Livestock Transporter, Clermont

Improvements in road infrastructure will lead to greater productivity not only for transport operators, but for all links on the beef supply chain due to the reduction o fstress placed upon the livestock being transported.
– Gerard Johnson, President, Livestock and Rural Transporters Association of Queensland
Keep up to date or
share your story.